The chill of winter is well and truly here, enveloping us in its frosty embrace.
Now, it's the time of the year where we all start to hibernate, choosing to stay in on the weekends with a crackling fire, the footy on the TV, and a hearty and delicious meal with family.
As winter settles in, there's no better way to welcome the season than with a succulent roast lamb.
Whether it's a family favourite or something you've been wanting to cook more, we're showcasing some simple tips to ensure a tasty and hearty meal that the entire family will love.
We're also sharing some of our favourite wine pairings, so you can enjoy a decadent meal from the comfort of your own home!
Searching for a local butcher shop? You can't go past Australian Butchers Store. Shop online or visit us in-store!
How to prepare the perfect roast lamb
Cooking is just half of the story: the cut of the butcher lamb you choose as well as the preparation method are critical to creating a succulent, juicy, and delicious dinner.
What are some of the most popular cuts of lamb to roast?
Head to your local butcher shop to discover a range of popular lamb cuts. Some of our favourites include:
1) Leg of lamb
The leg of lamb is a classic cut for roasting. It is tender, flavourful, and often cooked as a whole roast but can also be cut into smaller portions. You can also choose bone-in or boneless cut:
Bone-in
The bone adds flavour and also helps to distribute heat during cooking. The result? A moist and tender roast. Bone-in often takes longer to cook compared to boneless, but the results are worth the extra time!
Boneless
A boneless lamb leg offers convenience and ease of carving. The cut is deboned, rolled, and then tied into a neat shape. This way, it's easier to cut evenly when serving.
2) Lamb rack
A rack of lamb is a visually impressive cut, consisting of the rib bones with tender meat attached. You can prepare the rack of lamb as a whole before cutting into individual pieces for serving.
3) Lamb shoulder
A lamb shoulder is typically fattier than other cuts like the leg. It offers a rich and succulent meat that is perfect for slow roasting.
4) Lamb shanks
Enjoy a flavourful dish that shows off the richness and tenderness of this particular cut! Whether roasted or braised, slow cooked shanks become irresistibly tender, falling off the bone.
Remember, you can always speak to your friendly butcher to learn more about how to best prepare and cook your favourite cuts of lamb.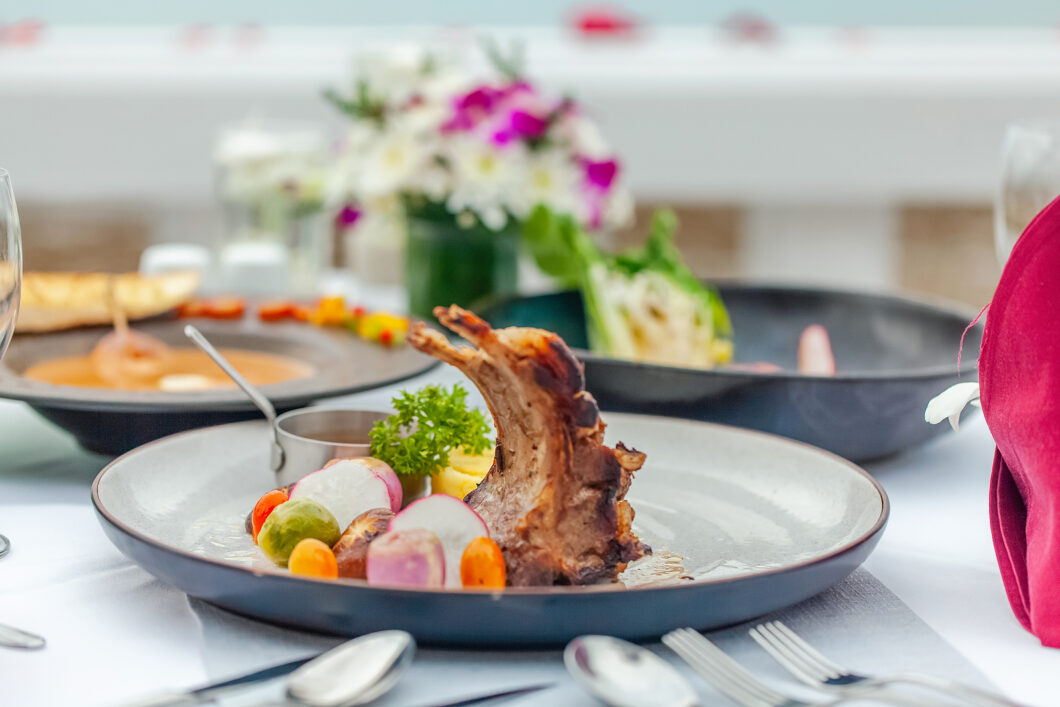 How to prepare lamb before roasting
Picture it: a tender and juicy leg of lamb, perfectly seasoned and roasted to perfection.
Its captivating aroma wafts through the house, enticing everyone to gather around the table.
With each succulent slice, you enjoy the delectable flavours and melt-in-your-mouth texture of the lamb.
Prepare the perfect meal by following these simple steps:
First, ensure the lamb is at room temperature by taking it out of the refrigerator 30 minutes prior to cooking
Preheat your oven to its desired temperature
Season your cut generously with salt, pepper, oil, and any desired herbs or spices
If you have time, marinate your lamb overnight or for a few hours
During cooking, baste the meat periodically with its own juices
Once you remove your lamb from the oven, allow it to rest for up to 15 minutes to ensure succulent and juicy results (we promise, the wait will be worth it!)
Which wines go well with lamb?
Pinot noir
This lighter red variation is full of fruit flavours and subtle earthiness. This combination allows the flavours of both the wine and the food to shine, without overpowering each other.
H4> Merlot
Medium-bodied merlot is characterised by its velvety smooth texture and bold flavours of plum and cherry. The flavours work wonderfully to bring out the tender flavours of lamb.
Cabernet sauvignon
This bold and robust drop complements the strong, rich flavours of a decadent lamb roast.
Shiraz
Shiraz is known for its peppery and bold profile. The deep fruity flavours complement a delightful roast meal.
Visit us in-store or shop online for the best quality lamb, beef, poultry, and more!
Find all your favourite cuts, speak to our friendly butchers, and discover a world of Australian wholesale meats with Australian Butchers Store!
We have four stores located across Melbourne and also offer the convenience of online shopping, delivered directly to your door.
Visit us in store or buy meat online in Melbourne at the best prices!